Please note that all the items that I have reviewed below are the once that I already possess and frequently use for my little girl as a new mom.
As a new mom to a precious little girl, I found myself overly dependent on a few baby products that I had either purchased myself or was gifted by friends or families. These products have helped me a lot in my motherhood journey. Now that my little girl is 6 months old, I have used these a lot and hope to keep using them in the near future. By sharing my list of my top 12 baby products below, I hope some new mom would benefit from it and purchase these while planning her nursery or add them to her baby shower registry.
When I was pregnant I was completely mesmerized by the innumerable baby goods available in the market and felt that I needed everything. But after having my little girl I realized that not everything that looked fancy was useful. As a new mom along with taking good care of my baby I also needed some downtime for myself to relax and to get done with other chores while keeping my little girl busy, getting some relief from my frequent body aches that I often suffered from post my c-section delivery, baby products that were easy to carry and maneuver around and which would also help me reduce my workload, as we all know as a new mom there is so much to do around. Below are my top 12 baby products that I have that were extremely useful to me.
Tommee Tippee Closer to Nature Electric Steam Sterilizer, White – A complete life savior and I absolutely love it. Being a working mom, time is always a  big constraint and I always find this electric steam sterilizer very handy. After washing the milk bottle I just mount them in this sleek designed unit and let it run for a few minutes and I get germ-free sterilized bottles ready to use.
2. Philips AVENT Bottle Warmer – While looking for a bottle warmer I wanted something that was universally designed to fit multiple brands of bottles so that if I have to change the bottle in the near future I would not have to purchase a new warmer. I found that the Avent bottle warmer suited the best to my needs. It's easy to use and small in size. Even though it comes in size for a 4 ounce bottle, I am able to warm a 8 ounce bottle in it.
3. Jj Cole Original Bundleme, Infant – I live in one of the most coldest cities in the states where we have harsh winter for almost 6 months in an year. As I had my little girl right around the start of winter I found this winter cover for car seat extremely handy. It was very useful when I had to take my baby for her doctor's appointment or anywhere outside.and would keep my baby warm and cozy.
9. The New Yorker Breast Pump Bag by Charlie G – My absolute favorite. I have this breast pump bag which I carry to work regularly. You can view my recent post here on what I carry in my breast pump bag at work. It is one bag that holds all my personal items, work laptop, breast pump and cooler bag.

10. Fisher-Price Infant-to-Toddler Rocker – This infant-toddler rocker seat is what I use daily to keep my baby close to me while I can get some cooking, cleaning etc done. It is very handy, light and easy to carry around and the hanging toy keeps my little girl entertained for a long time.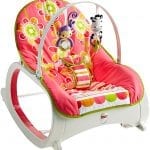 11. Dr. Brown's Original Baby Bottles – As a nursing mom I had to go through a few bottles initially from various brands to get by baby used to bottle feeding. She naturally liked to nurse more but as a working mom I did not have an option otherwise to get her used to the bottle. I found that she took to the Dr. Brown bottle willingly and it doesn't confuse her between nursing and bottle feeding.

I hope y'all found this blog post useful. If there is any product that you found very useful as a mom please let me know by leaving a comment below. You can also follow my motherhood journey on instagram where I share a very small piece of what goes in my life as a new mom and anything that inspires me.
Thanks for stopping by!