Welcome to Totally MOM-Sense, I am Rupal Srivastava, engineer and a mother to a beautiful baby girl Mishika meaning 'gift of love' born on October 31st, 2017. I love trying new things, fashion, travel, cooking, and is especially passionate about colors.
My story,
I was born and raised in India. My father was in the army and hence being raised as an 'army kid' gave me immense opportunity to travel my country, explore new places, embrace new cultures and make a lot of friends. I moved to the States in 2012 to complete my masters and  since then I currently reside and work in the New York state. I love being outdoors and trying new activities depending upon what weather I am in but my favorite of all is swimming. In June 2015, I married my partner in crime who also happens to be my best friend Mayank and last year we were blessed with a baby girl.
I am new to the blogging world and have started this blog as a vent to share my creative side. Totally MOM-sense is a parenting and lifestyle blog, which will be a source of my learnings, thoughts, tips and ideas on motherhood, fashion, travel, lifestyle and anything that inspires me.
Thank you all for stopping by and spending some time with me. Hope you all enjoy reading!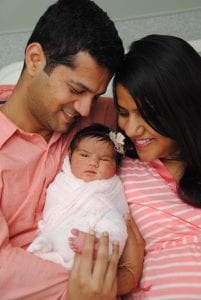 Babyshoot in the hospital when Mishika was four days old