I love reading! I have been an avid reader since the time I was a young girl. I enjoy reading myself to bed as it calms me completely and helps me disconnect from the chaos of the day. Reading has always helped me appreciate my life better. So, when I had Mishika I knew from the start that I wanted to inculcate a reading habit in her routine from as early as possible. Also it is a great activity to do with your kids which helps you bond more and also exposes your little one to new things around them. But introducing a reading routine for little Mishika has not always been easy as we are sometimes on travel or just have something else going on like a friends gathering or etc. The key for me to trying anything new has always been – Start small and try to do it to the best possible extent you can. Basically not to be overwhelmed!!
Here are seven tips that I found were helpful to get us and our little girl started into a reading routine!!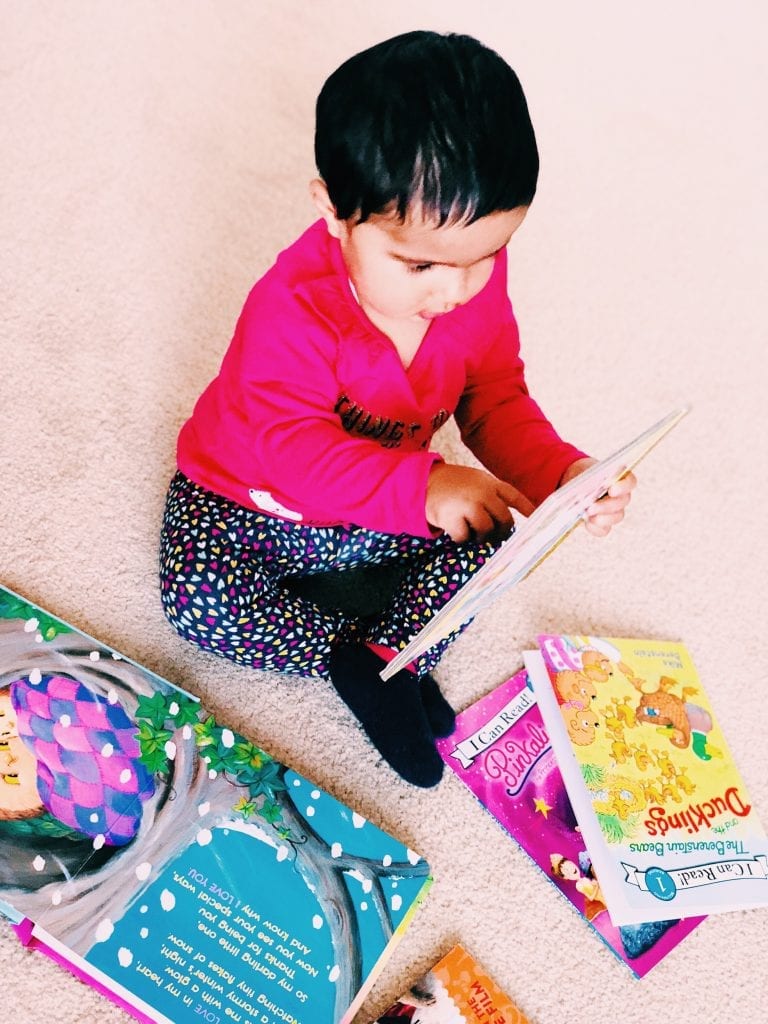 1. Start early – We started reading to Mishika from as early as 3 months of age. Young babies may not know what the pictures in a book mean, but they can focus on them, especially faces, bright colors, and contrasting patterns. When you read or sing lullabies and nursery rhymes, it is entertaining as well as soothing for the baby.
2. Start small – Initially we would spend only 5-10 minutes in a day reading to our baby but with time the duration slowly increased and now we spend good 15-20 minutes reading before bedtime
3. Stick to a routine – To the best of our possibility we always tried to stick to a schedule daily and read to her. We clubbed it with her bedtime routine so that she can easily associate to it that it is her reading time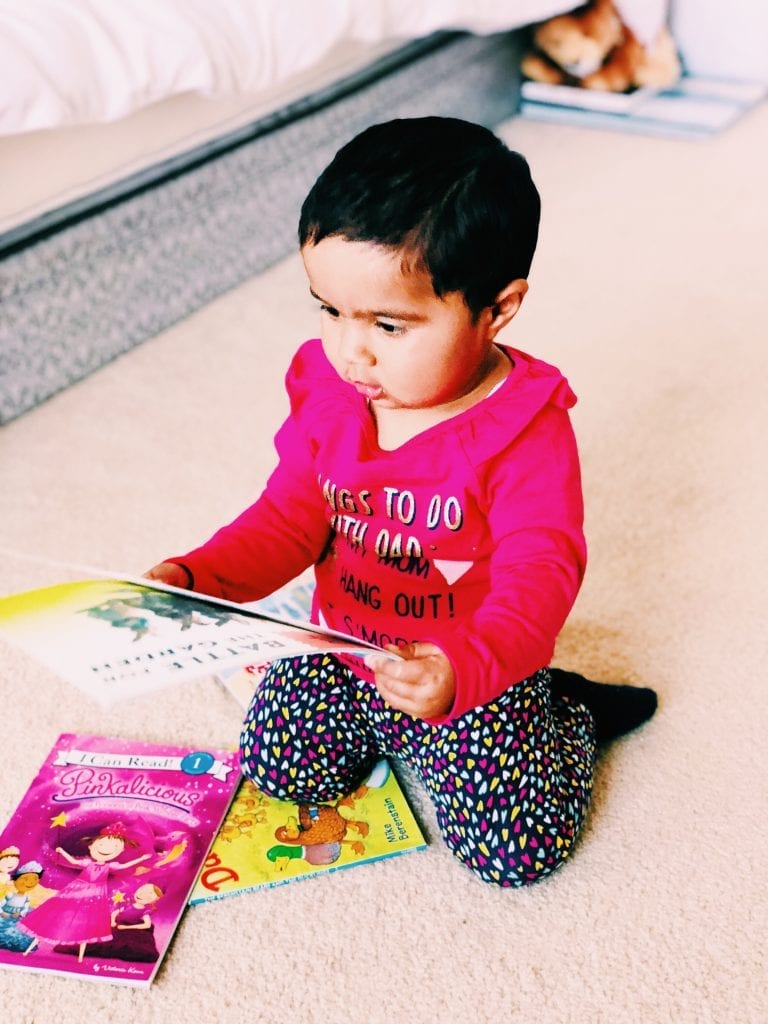 4. Read to your child every day – This is one of the most important building block in forming a habit. It's important to do it daily even if its for only 5-10 minutes a day.
5. Play background music – Playing a background music really helped us create the environment. It helped Mishika calm down from her overly energetic self and then we would spend time together reading the book
6. Security – Holding Mishika close to me while reading the book made her feel more secure and satisfied and she would sit longer and not get restless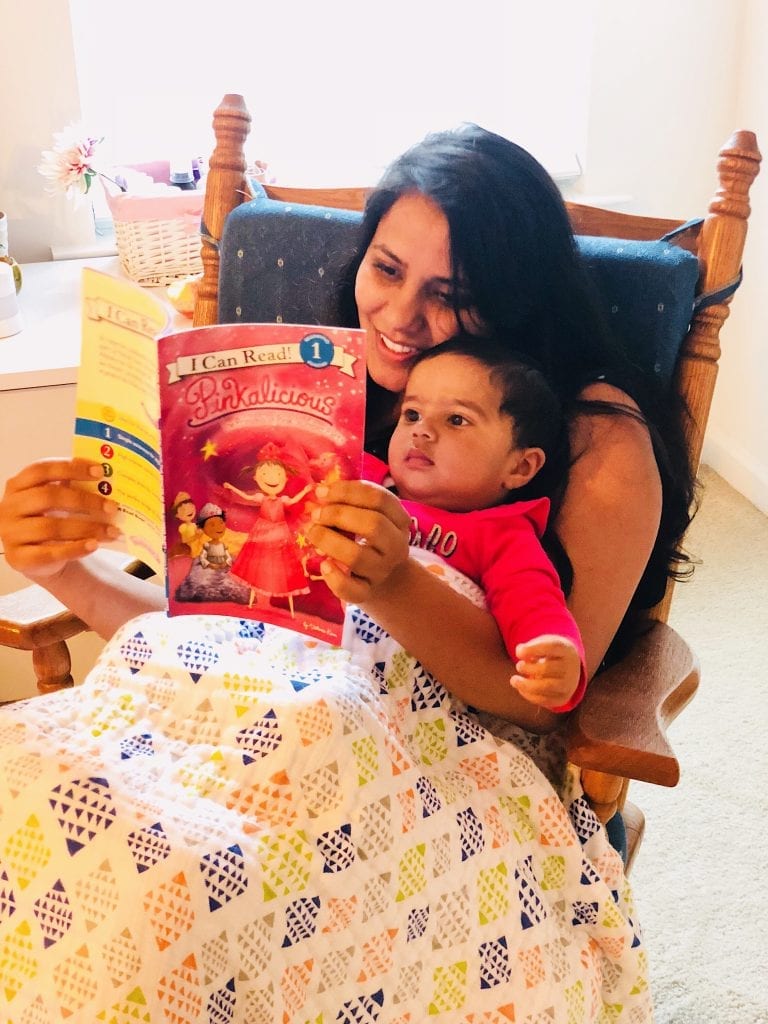 7. Big and colorful picture book – Start with book with big and colorful graphics as that can keep your little one engaged longer. Some examples are lullabies, board books (with pictures), cloth books (with various textures), song Books and etc.
8. Mimic characters and sing while reading – Making sounds and singing while reading would always keep Mishika's attention and keep her more engaged. A small tip try changing the tone of your voice as you read. This makes it easier for your baby to pick up on different speech sounds, which is an important step towards learning to make sounds themselves.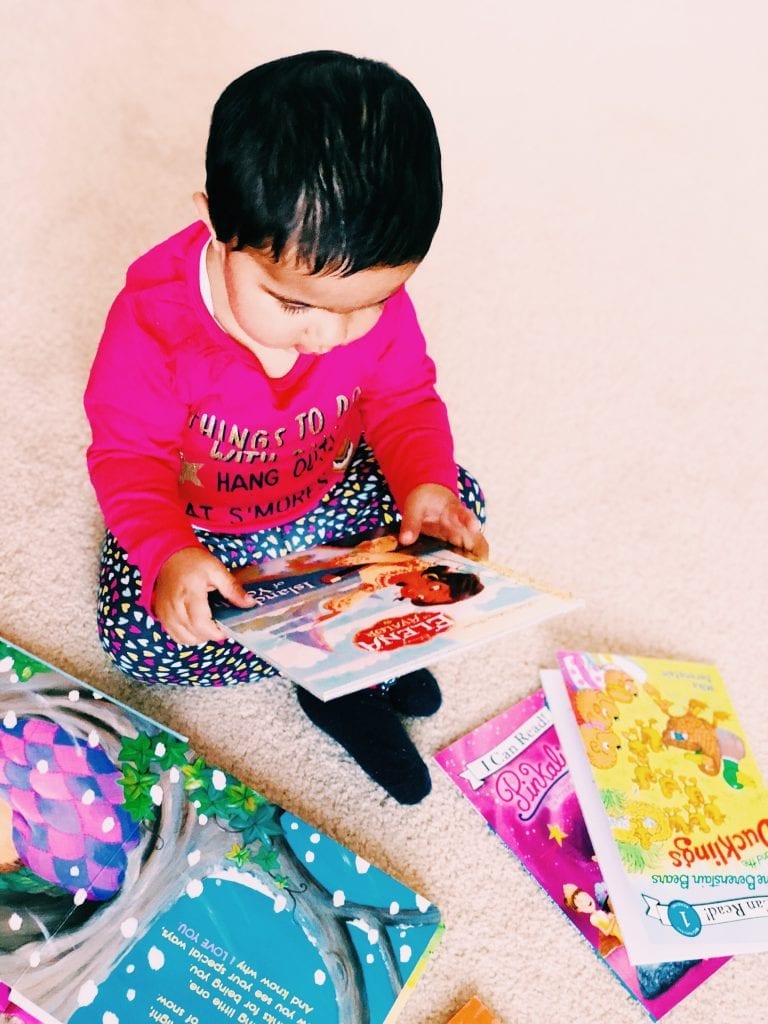 We have been using these tips for quiet a few months now and I can say that Mishika has definitely picked a liking towards reading. While she is playing on her own, I do catch her many times, staring at books and flipping through pages.
I have linked a few of my favorite books that you can start with for your little one!